July In The Vineyard
In the Vineyard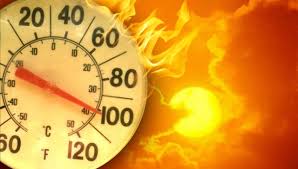 The last few days have seen the temperatures nearly reach record-breaking highs. While heat is necessary for the grapes to ripen, extreme heat (above 100 degrees Fahrenheit for an extended period of time) can cause the vines to suffer heat stress. The vine stops photosynthesizing and the plant basically shuts down while temperatures remain high.
At this point in the vine life cycle, right before veraison (the onset of ripening), we are trying to encourage canopy growth to ensure we have enough green leaves to fully ripen each and every cluster of grapes. So during this current heat spell, we have been closely watching our soil moisture monitor reports and adjusting our watering patterns based on the data we are seeing. We have been running the drip line irrigation for short intervals, maintaining just enough water to keep the plants producing leaves while we endure 100+ degree days.
At least we can stay cool in the air conditioning with a cool glass of Reluctant Rosé in hand!