Tasting Room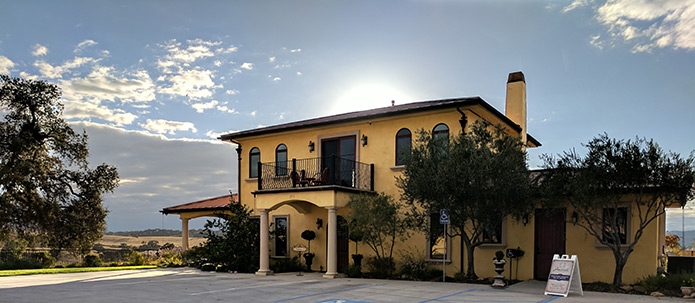 Visit Our Family Owned Estate Winery
We're located just off Highway 46 East behind Robert Hall Winery. Our rustic, tuscan style tasting room is an extension off the main house and offers award-winning estate wines in a welcoming, elegant and relaxing atmosphere. Whether it's inside the tasting room, seated tasting outside on the patio by the fountain or a seated tasting inside our enclosed patio, you will find a continuous view of our vineyard during your tasting experience. It's a great place to picinic and enjoy a bottle of Mitchella wine. We have a selection of non-alcoholic beverages, cheeses, crackers and other small edibles available for purchase.
Tastings

We offer seated tastings with cheese pairings along with your wine tasting (this is included in the tasting fee).

Walk-ins welcome with no reservation needed in our tasting room and patio. Reservations required for groups of 6 or more. Final tasting room pour will start at 4:00pm. Thank you for thinking of us here at Mitchella Vineyard & Winery.

Fees

Individual tasting fee $15, complimentary for members. 2 bottles waives 1 tasting fee.

Members receive a total of 4 complimentary tastings.

Shared tasting fee $25 / pp.
2 bottles waive 1 tasting fee. (Not currently offered)
COVID 19
We are open Wine Tasting, Retail Sales, Wine Pickips, Shipping, & our Original To-Go Tasting Boxes. Please schedule your reservation and come join us for a wonderful tasting experience.

To-Go Boxes:
$20 pp for non members (and additional $5 for cheese pairing)
$15 pp for wine club members (complimentary cheese pairing)

Call 805 .239.8555 or email us ahead of time to place an order to pick up your custom box while supplies last!

Available for pick up Thursday - Monday, 11:00 am - 4 :00 pm