Roasted Pumpkin and Feta Tarts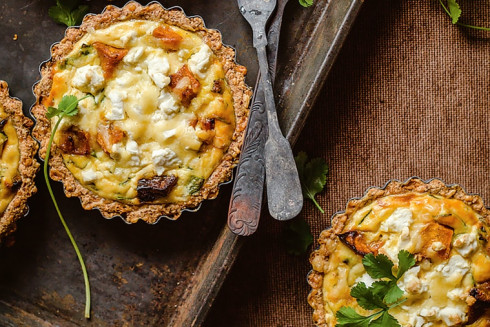 Ingredients
14 oz ricotta cheese
4 eggs
1/4 cup grated Parmesan
1/4 cup (60ml) pure cream
1 tbs cornflour
1 cup basil leaves, finely chopped
9 oz roasted pumpkin cubes
9 oz feta, crumbled
Crust
2 cups almond meal
2 cups grated Parmesan
4 egg whites, lightly beaten
Directions
Preheat oven to 375°F and grease eight 2.5" fluted tart tins (or a 8" tin).
For the crust, combine almond meal, Parmesan and a large pinch of sea salt in a bowl. Add egg white and fold to combine.
Turn mixture out onto a sheet of baking paper and roll or press together, then line the tins with the dough. It's a fragile dough so just press it into the tins with your fingertips. Bake for 10 minutes, then remove from the oven and leave to cool.
In a bowl, whisk together ricotta, eggs and Parmesan, and season well.
In a separate bowl, whisk cream and cornflour until combined, then whisk this mixture into the ricotta mixture until well combined. Stir in the basil.
Pour the mixture into the tart shells and carefully place pumpkin and feta on top. Bake for 40 minutes until center is just set.