Empanadas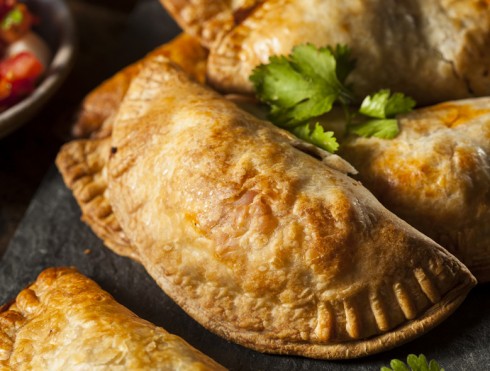 Ingredients
1 C. shredded chopped chicken
1/2 C. golden raisins
1 Tbsp. Mexican seasoning (1/2 cumin and 1/2 garlic powder)
1/2 C. shredded Mexican cheese
4 Tbsp. Cowboy Ike's Cabernet Jelly (or to taste)
1 egg
1 Tbsp. of finely chopped canned Chipotle peppers
1 (15-ounce) box refrigerated pie crusts (recommended: Pillsbury)
Directions
Preheat oven to 400 degrees F. Line 2 baking sheets with parchment paper.
In a medium bowl combine chicken, golden raisins, seasoning, cheese, jelly and chopped chipotle peppers.
Unroll pie dough, using a 3-inch round cutter, dusted with flour and cut out as many rounds as possible, 10-12 for each sheet, should have between 20-24 rounds. Beat the egg lightly in a small bowl, set aside. To assemble empanadas, fill the center of each round with approximately 1/2 tablespoon of the mixture. Brush half of the perimeter of each dough round with the egg wash. Fold over 1 side of the round to make a half circle. Crimp the edges of each empanada with tines of a fork. Place empanadas on prepared baking sheets. Brush each top lightly with egg wash and sprinkle each with a little of the remaining cheese.
Bake in preheated oven for 18 to 20 minutes or until golden brown.