Apple Butternut Squash Casserole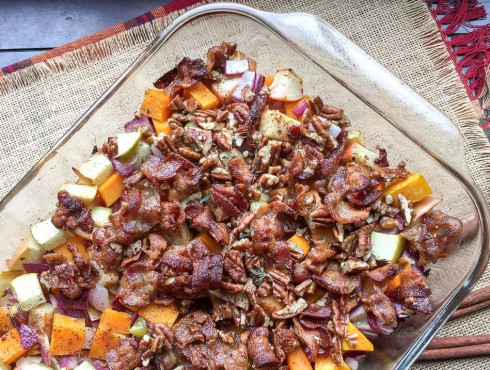 Pairs with 2018 Merlot
Ingredients
¼ c. coconut oil, melted, divided
3 c. butternut squash, cubed
2 medium firm apples, cubed
1 small red onion, chopped
1½ tsp. fresh sage, chopped
1½ tsp. fresh thyme leaves
Sea salt and black pepper, to taste
6 slices thick-cut bacon, chopped into ½-inch pieces*
½ c. pecans, roughly chopped
2 Tbsp. honey
½ tsp. ground cinnamon
¼ tsp. ground cloves
Directions
1. Preheat oven to 400°F and grease a 9×13" baking dish with 1 tablespoon melted coconut oil. Set aside.
2. Combine the butternut squash, apples, red onion, 2 tablespoons melted coconut oil, sage, and thyme in a large mixing bowl. Season with salt and black pepper, to taste, and toss to combine.
3. Transfer the butternut squash mixture onto the prepared baking dish and spread into an even layer. Place in the pre-heated oven to roast just until the butternut squash is fork tender, around 25-30 minutes.
4. While the butternut squash mixture is roasting, heat a large sauté pan over medium heat and add the bacon. Cook, stirring occasionally, until the bacon is cooked through and crispy, approximately 8-10 minutes. Transfer the bacon to a small mixing bowl lined with paper towels to absorb excess grease. Blot off remaining grease on top and set aside to cool for 5-10 minutes.
5. Once cooled, discard the paper towels and add the remaining tablespoon of coconut oil, chopped pecans, honey, cinnamon, and ground cloves.
Season with salt and black pepper, as desired, and toss to combine.
6. Remove squash from oven and top with the bacon-pecan mixture. Return to the oven until the topping is nicely browned, approximately 10 minutes. Remove from oven and cool for 5 minutes before serving. Enjoy!