Maple Bacon Garlic Onion Jam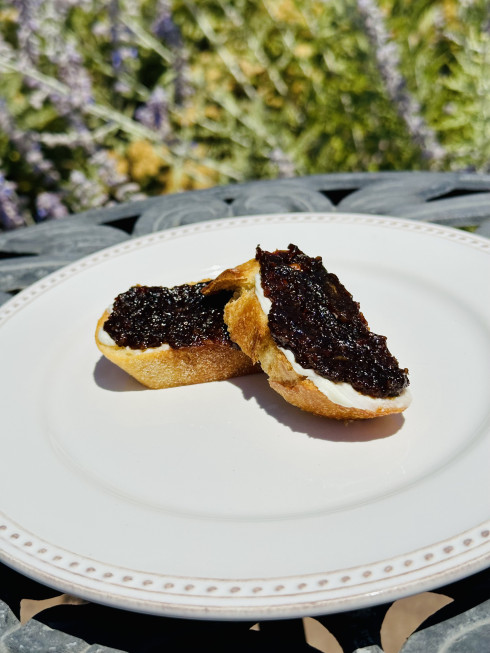 Pairs with 2018 Cabernet Franc
Ingredients
1 lb thick cut bacon
2 large sweet yellow onions
1/3 cup maple syrup
1/3 cup brown sugar
2 tsp Worcestershire
1 tbs fresh thyme leaves
2 tbs bourbon
1 and a half bulbs of garlic
*Ingredients for Maple Bacon Jam Crostini's
40 slices baguette
1/2 cup olive oil
3/4 tsp kosher salt divided 1/2 tsp and 1/4 tsp
4 ounces cream cheese, softened
4 ounces mascarpone
1 tsp lemon juice
1 tsp honey
2 cups bacon jam
Directions
Preheat oven to 400 degrees F. Peel and discard the papery outer layers of the whole garlic bulb. Leave intact the skins of the individual cloves of garlic. Using a sharp knife, cut 1/4 to a 1/2 inch from the top of cloves. This exposes the individual cloves of garlic. Drizzle the raw garlic with olive oil and sprinkle with salt. Then seal the tin foil around the pieces to create a little "parcel." Roast in the oven for 40 minutes.
Heat a large skillet over medium high heat. Thinly slice onions.
Add bacon to hot skillet and cook until almost completely crisp. Transfer fully-cooked bacon to plate lined with paper towels. Drain all but 2 tablespoons bacon fat from skillet and discard or save for other uses. Turn the heat down to medium low, and add in sliced onions and stir to coat completely in bacon grease. Cook until the onions are caramelized, 15-20 minutes, stirring often.
Add all the remaining ingredients and stir until sugar is dissolved. Simmer for 7-10 minutes, or until the mixture has thickened. It should be about the consistency of a jam.
Allow to cool. Add bacon, roasted garlic, and jam mixture to food processor. Puree to a moderately smooth consistency.
Eat immediately or store in the refrigerator for up to 2 weeks, or freeze up to 3 months. Yields about 2 cups.
* Instructions for Maple Bacon Jam Crostini:
Preheat your oven to 350°F. Slice your baguette to yield around 40 slices.
Brush both sides of each bread slice with olive oil and place on a baking sheet. Sprinkle with 1/4 tsp salt and place in oven. Bake 7 to 9 minutes, flipping halfway in between.
Remove crostini to a cooling rack to cool completely.
Combine the cheeses in a bowl and add lemon juice, honey, and remaining salt. Mix together until smooth and creamy.
Add a smear of cheese to each cooled crostini and top with a spoonful of bacon jam. Serve immediately.