Braised Short Ribs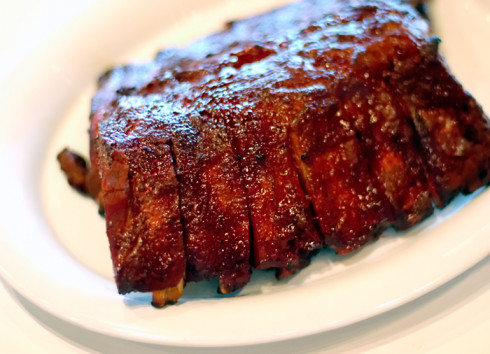 Ingredients
3 lbs. bone in beef short ribs
Salt and freshly ground pepper to taste
2 Tbsp. olive oil
2 small yellow onions, thinly sliced
1 lb baby mushrooms, quartered
4 cloves garlic, minced
2 C. Cabernet Sauvignon
2 C. low sodium beef broth
1/2 tsp. of dried thyme, oregano, rosemary, and marjoram
2 bay leaves
Mashed potatoes or mashed cauliflower for serving
Directions
Coat the insert of your slow cooker with cooking spray; set aside.
Season short ribs with salt and pepper. Heat olive oil in a large skillet set over medium-high heat. Add ribs to the heated oil and cook for 5 minutes, or until browned on all sides. Transfer browned ribs to your slow cooker; set aside.
Add onions to skillet and cook for 3 minutes. Stir in mushrooms and garlic for 2 minutes. Add wine and scrape up all browned bits from the bottom of the skillet. Stir in beef broth, season with the herbs; increase heat and bring to a boil; lower heat to a simmer and continue to cook for 3 minutes. Remove skillet from heat and pour the sauce over the ribs.
Cover and cook on low for 8 –10 hrs. Remove lid and taste for salt. Remove ribs and serve with mashed potatoes and strained cooking liquid. Enjoy with a glass with Cabernet Sauvignon.