February 2018 Vineyard & Winery News
February 1, 2018
Every January, Darren does a process called "rack and return." Every winery does this process around the same time each year.
During this process, barrels are emptied of the precious wine leaving behind a leesy (dead yeast from the fermentation process) sediment. Then, the barrels are cleaned out and the nectar of the gods is returned to the barrels. There are various benefits to cleaning the wine this way... softer tannins, less astringent wine, increased fruit-forward flavors, and a stable, rich color. Additionally, varietals from different barrels can be blended together to achieve balance and a noteworthy blend wine like Shameless.
We use new and aged oak barrels as well as stainless steel barrels. The difference between using new or old barrels is that the new barrels will impart more flavor on wines and the older barrels less.
Rack and returns are labor intensive, but also exciting, as we get to catch a glimpse of what will be bottled in a few short months.
Did you know we have some new wines coming out, as well as a new cheese pairing?Come in, sip, savor, and taste our new line up.
Cheese pairings with wine have been happening for a thousand years and with good reason. With the right pairing, both the cheese and the wine sing on the palette.
In red wines, the right cheese pairings will increase the aroma of red fruits. They can also reduce the duration of astringency, the feeling in the mouth caused by young red wines.
Previous research in the US suggested that the pairing of cheese and wine works because the tannins in wine cause a rough, drying sensation leaving the tongue and gums feeling parched, but the fat in cheese has the opposite effect, lubricating the mouth and making wine enjoyable.
Personally, research aside, pairing the right cheese with the right wine can give you a lasting, euphoric experience that may make you want to raid the cheeses in our fridge (yes, we sell them as well) and grab a bottle of wine to go. Hey, we don't judge!
Our Estate Rhone Blend of 42% Grenache, 38% Mourvèdre and 20% Syrah, is packed with delicious fruit aromas of cherry, blackberry, and raspberry. Delicately balanced by rich silky tannins and hints of blueberry, spice, with a touch of earthiness that perfectly sets the mood for February.
PAIRING RECIPE
Petit Top Sirloin Burgers
Delicious and juicy with
rustic cheddar, caramelized onions and heirloom tomatoes...Hello!
Recipe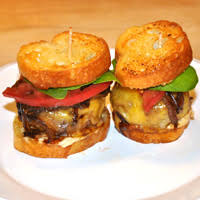 EVENTS
Tasting Room Closed Super Bowl Sunday
Chocolate Festival at Vina Robles 5-8pm
Paso Robles Rhone Rangers Experience at Broken Earth Winery 10:30am
Vintage Paso: Zinfandel Weekend
« Back to News