July 2018 Newsletter
July 1, 2018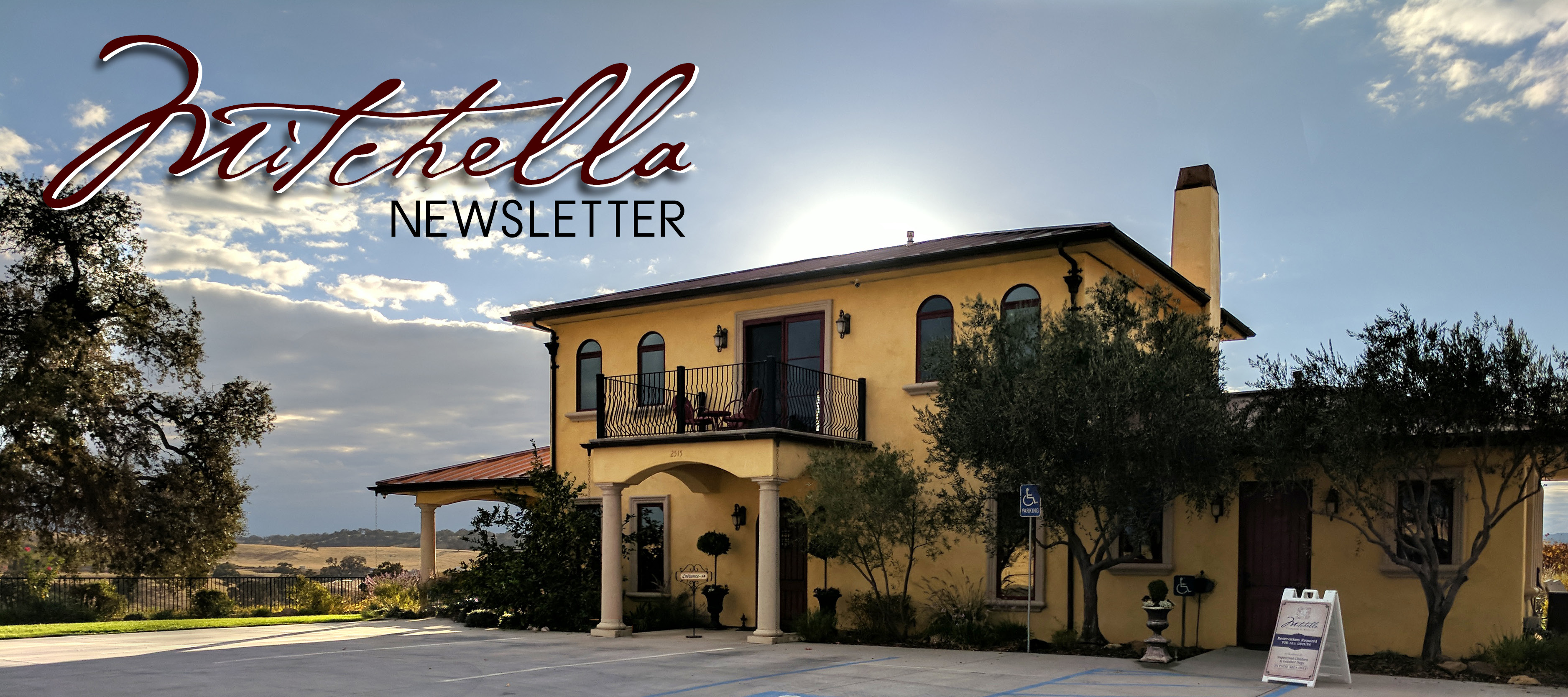 Summer is here and there's a lot happening in the vineyard. In our last newsletter, we gave you common terms used for the cycle of vines so, the following should sound a little familiar.
Our nice, moderate weather has allowed the self-pollination process to be successful, and as a result, we had good fruit set. To the right, you can see the bright green berries visible. This stage of fruit set follows flowering (those spindly looking things). The berries are firm in texture, have very little sugar and are high in organic acids. The vine's energy is now going into the development of the berry. The berries will proceed through three stages: the Rapid Growth Stage, the Lag Stage, and the Veraison Stage.
This first phase of rapid berry growth lasts between three to four weeks. The berries will then proceed through the lag phase, where growth slows and organic acid concentration reaches its highest level. The final stage is called veraison, where the fruits of our labor pay off. The ripening begins, color deepens, sugar accumulates in the berries signaling harvest time is right around the corner. While it's still a few months away, just talking about it makes our mouth water.
The Mitchella family just got a little bigger. Sage is a few months old and loving it here at Mitchella Vineyard. She has a pretty cushy home and loves attention. We always take a moment each day to say hello and give her a good scratch. If y
ou happen to take a tour of the vineyard, stop and give her a scratch. It'll make her day!
Have you ever been confused by what varietal goes with what shape, size or style of wine glass? There are a lot of options out there specifically designed for almost every varietal of wine. Ultimately, does the glassware really matter? To a point, yes. More than anything, it's about the wine, not the glass. However, the whole wine drinking experience is important (it's definitely more appealing sipping a stellar Mitchella red in a wine glass rather than in a tumbler).
Whether you're new to wine, you want to look like a wine connoisseur when hosting your next dinner party or you're just confused on all the glassware options, we decided to simplify things for you because, all you really need are four styles of glasses (two if you're on a budget).
Red
Everyone's pretty familiar with this glass. Generally having the largest bowl shape of wine glasses, the difference in bowl size allows for more aeration which is needed more for reds than with whites. When using, we suggest you fill only a 1/3 full. While the bowl size varies between robust and lighter reds, other characteristics of red glassware is the tapering of the rim. The wider rim offers ease of swirling and directs the aromas toward your nose more effectively as you drink. A red wine glass is a must in your wine arsenal and if you are only able to pick two glasses out of this list, choose a red glass with a more tapered rim so, you can use for both reds and whites.
White
The difference in bowl size is how you distinguish between a red or white glass. White wine glasses have taller stems and slimmer U-shaped bowls. Holding onto the stem minimizes your body temperature from altering the wine, keeping it cooler longer. A slimmer U-shape bowl should be big enough so when you pour the wine it doesn't fill more than 2/3 of the glass. This allows the aromas of the wine to be released while simultaneously helping maintain a cooler temperature.
Sparkling/Champagne
The easiest glass to recognize, often called a "flute" or "champagne flute", is very upright and slender. With a taller stem and narrower of a rim, this glass captures and retains the carbonation and flavor. Like the white wine glass, the longer stem is for protecting the chilly temperature from the warmth of your hand. This would be the other glass to choose if you're only deciding on two glass styles. Its frequent use as a celebratory glass makes it the second choice on our list if two glasses are your limit.
Dessert
Dessert wine is extremely sweet and often has a higher alcohol content so, it's not wise to consume large servings like regular wine. As a result, the dessert wine glass will be much smaller than other types of wine glasses. Whether you get a sherry or port glass, these are sippers and also have long stems so as to not alter the wines temperature.
Vibrant pink, with fruit driven aromas of raspberry, strawberry and rhubarb that are followed by a luscious mouthfeel, with flavors of plum, cherry, and a hint of white pepper on the palate. Made up of 50% Zinfandel, 25% Malbec, and 25% Tempranillo, this wine is a perfect accompaniment to your BBQ.

Savory Heirloom Tomato Bread Pudding

Because it's tomato time, here's a recipe ripe for the picking!

From Mary Margaret McGuire, Mitchella Wine Club Member
Pizza on the Patio
Three pizza flavors each month!
This Sunday's pizza flavors:
Margarita Pizza with Heirloom Tomatoes, Fresh Mozzarella and Basil
over Homemade Marinara Sauce
Canadian Bacon and Pineapple with Cheddar Cheese
on top of Earl's Gone Wild Habanero BBQ Sauce
Chicken and Goat Cheese with Basil Pesto and Fresh Burrata
We'll also have popular Indie-folk artist, Will Breman playing!
Enjoy Indie-folk artist Will Breman
Enjoy Indie-rock from the band Sidedish
Oven fired pizza, Mitchella wine and entertainment overlooking the vineyard.

_________________________________________________
_________________________________________________
10-12pm
« Back to News